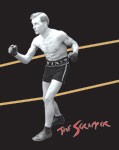 2010 THE SCRAPPER
This is a wine made for the open-minded, the adventurous and those who root for the underdog. It's Cabernet Franc from El Dorado California aged in used French Oak for 28 months; truly a Scrapper.
This wine is a special little wine from the El Dorado Foothills which we have been making for 12 vintages. The entire vineyard only produces about 500 cases a year but it's worth it (because it's so good). The origin of Cabernet Franc is simply the parent of the more popular "King of Grape Varietals" Cabernet Sauvignon which is a cross between Cabernet Franc and Sauvignon Blanc. This vineyard is 25 years old and is head-trained allowing more sunlight into the canopy and therefore a reduction in Pyrazines which are responsible for green and vegetal aromas and flavors.
We depict this brand with our version of a Scrapper
(a fighter) because the varietal has quickly been forgotten in the shadows of the more popular varietal Cabernet Sauvignon. Our scrapper image happens to be the image of Gene Tunney who was the 1926 Heavyweight Champion of the World, most modern day people have never even heard of him. Well, have you ever heard of Jack Dempsey?
A little history lesson here; Gene Tunney defeated Jack Dempsey for the 1926 crown, but it was the second time he defeated the more popular fighter (no one else ever did that). So to complete our metaphor, if Gene Tunney is Cabernet Franc, clearly Jack Dempsey is Cabernet Sauvignon so we then ask you, which is the better varietal because we know who the better boxer was.
The color of this wine demonstrates its concentration with a deep plum black cherry hue. The wine is very extracted due to low yielding (2 tons per acre) yields which express amazing varietal concentration. The aromas show ripe black cherry and cassis notes and lead to a silky entry on the palate which is very supple with a sweet core of fruit followed by structured tannins, black pepper, leather and grippy plum and ripe cherry flavors. The wine finishes with the overall strength we expect from Cabernet Sauvignon with the rare dignity few Scrappers (Cab Francs) possess. Try it with grilled Pork Chops, seasoned lamb on the spit or grilled bone-in Rib Eye steaks with soft polenta and roasted brussel sprouts. It's fantastic with chocolate (anything) and will stand up to a Flourless Chocolate cake.
2007
Wine Enthusiast Magazine, April, 2011
92 Points
"A 100%-Cabernet Franc from mountainous El Dorado County! This wine's crazy good with tons of varietal character — woodsy tannins, touch of green pepper, vials of violets — that's also packed with plenty of great plum, cassis and savory notes of leather and mocha, all in a memorable package. With plenty of grip and acid, enjoyed over a meal, it gets better by the minute and has the depth to age 5 - 10 years, too." - V.B.
2006
The Tasting Panel, June, 2011
90 Points
"Smooth and silky with plum, spice and hints of smoke and mocha; sipple, dense and balanced with good length" - Anthony Dias Blue
Wine Enthusiast Magazine, October 1, 2009
87 Points
"Cabernet Franc is the best Bordeaux variety grown in the Sierra Foothills, and this is a pretty good one. It's dry and classically structured, with rich flavors of cherries, herbs and oak, and a briary character of wild mountain berries." - S.H.
2004
Wine Spectator, Web Only 2007
87 Points
"Ripe, supple and complex plum and black cherry fruit is intense without being heavy, with some ultraripe notes that provide a hint of raisin. Ends with chewy tannins. Drink now through 2011" - James Laube
2003
Wine Enthusiast, October 2006
93 Points, Editors Choice
"It really impresses for its dry finesse, a wine that exhibits true gout de terroir in the earthy, mushroomy flavors with their subtle hint of black cherries and violets."
Wine & Spirits, September 2006
89 Points, Highly Recommended
"Oak softens the earthy, mineral tones of El Dorado fruit in this smooth, smoky black wine. It feels tightly built, ready over the next several years for a grilled steak."
2006 San Francisco International Wine Competition
BRONZE medal
Wine Specs
Appellation
Central Coast
Vineyard Designation
Van Huen
---
---