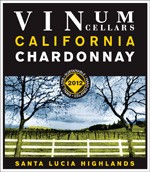 2012 CALIFORNIA CHARDONNAY
Medium golden straw color with rich custard and mineral aromas backed by Lychee and Linalool. The palate displays generous french oak flavors and a sappy mid palate of red delicious apple, creamy custard and lemon curd.
This wine is best as an apéritif or as an accompaniment to summer salads. It's delicious with grilled salmon topped with an Opal basil and heirloom tomato salsa. And with your Sunday Quiche.

---
JOIN OUR WINE CLUB and receive FREE SHIPPING on your first installment!
---
TRY A 12 BOTTLE CASE OR A 6 PACK OF OUR MIXED SAMPLER!
A great way to get an introduction to our product line, and receive 10% discount!
---
2009 THE SCRAPPER
CABERNET FRANC
GOLD MEDAL, Cincinnati Wine Competition, March, 2013
2007 THE SCRAPPER
CABERNET FRANC
Wine Enthusiast Magazine, April, 2011
92 Points
"A 100%-Cabernet Franc from mountainous El Dorado County! This wine's crazy good with tons of varietal character — woodsy tannins, touch of green pepper, vials of violets — that's also packed with plenty of great plum, cassis and savory notes of leather and mocha, all in a memorable package. With plenty of grip and acid, enjoyed over a meal, it gets better by the minute and has the depth to age 5 - 10 years, too." - V.B.
2006 THE SCRAPPER
CABERNET FRANC
The Tasting Panel, June, 2011
90 Points
"Smooth and silky with plum, spice and hints of smoke and mocha; sipple, dense and balanced with good length" - Anthony Dias Blue
---
mailing list sign-up
---