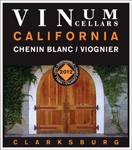 2012 CALIFORNIA CHENIN / VIOGNIER
This noble Chenin Blanc blend is pale in color, yet exhibits all of the classic Chenin Blanc attributes: high natural acidity, pretty apricot nectar and clove scents throughout. This intense cuvee is almost perfumed and exquisitely concentrated. The palate is juicy with generous undertones borrowed from the small addition of Viognier which express itself as: peach and apricot nectar, jasmine and clover honey.
This is a refreshing summer wine which suits a wide variety of food: Thai with earth and slightly spicy emerald curries and pad thai dishes, wild Salmon, Cuttlefish or Day Boat Scallops with basil mashed potatoes and curried cauliflower. Our favorite deck, patio and hot tub sipper.
Cases Produced: 3,500


2010
California Chenin Blanc: The Chronicle recommends
Jon Bonné
Sunday, April 15, 2012
"2010 Vinum Cellars Clarksburg Chenin Blanc-Viognier ($12, 13.5%): Winemakers Chris Condos and Richard Bruno have staked a claim on Chenin, which among other things made up their "Chard-No-Way" in years past. Harnessing what has become a quintessential mix - Chenin from the Clarksburg appellation in the Sacramento River Delta, blended with Viognier - they found a refreshing, crisp expression, full of Bosc pear and pumpkin seed, with ripe lychee and lean wheatgrass. A great example of table wine done right."
2009
Wine Enthusiast Magazine, April 2011
89 Points & BEST BUY
"Brilliantly dry and acidic, an Old World-style wine whose price shouldn't mis- lead you. This is a serious food wine, dry and minerally, with lemon and lime flavors. Best Buy." —S.H.
---
---