WELCOME
---
As an environmentally conscious company, Vinum Cellars works only with sustainable growers to create Eco-Friendly products. The packaging choices were made specifically to minimize their carbon footprint. Some of those features are: Domestically produced light weight, Eco-Series glass; labels and cartons using only non-toxic, water based inks and each of these suppliers recycles 100% of the waste created by manufacturing our packaging.
---
2009 THE SCRAPPER WINS GOLD IN CINCINNATI WINE COMPETITION.
MARCH 2013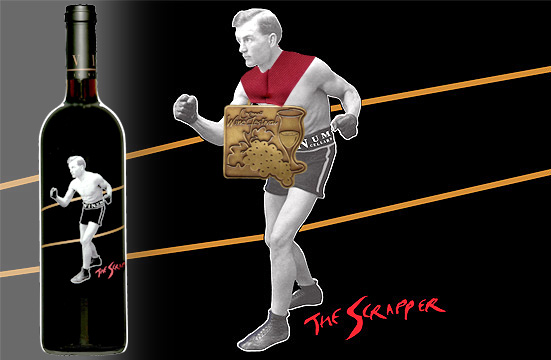 buy now
---
FROM NAPA WITH LOVE

A new release:

2012 ROSE OF CABERNET SAUVIGNON
This 100% Napa Valley Cabernet is a vibrant salmon pink color with beautiful floral/rose musk notes with lemon, citrus notes. The palate expresses fresh strawberry-rhubarb flavors with sweet tealeaf and candied orange peel. The finish is ripe with a burst of sour cherry and nasturtiums, snappy acidity and balanced.
This wine is ideal for Valentines Day, Mother's Day, Independence Day, TAILGATERS, beaches, hot tubs and anything summer.
This is a great choice for goal cheese tarts, pizzettas with sun dried tomatoes and steak salads. Since the wine is a Cabernet Sauvignon base, it does have some of the tannins which give it some grip albeit in a lighter fashion. I still love our Rose with toasted peanut butter and jelly sandwiches (go for the organic crunchy style and brioche if you have it).
buy now
---

California Chenin Blanc: The Chronicle recommends
Jon Bonné
Sunday, April 15, 2012
| | |
| --- | --- |
| | 2010 Vinum Cellars Clarksburg Chenin Blanc-Viognier ($12, 13.5%): Winemakers Chris Condos and Richard Bruno have staked a claim on Chenin, which among other things made up their "Chard-No-Way" in years past. Harnessing what has become a quintessential mix - Chenin from the Clarksburg appellation in the Sacramento River Delta, blended with Viognier - they found a refreshing, crisp expression, full of Bosc pear and pumpkin seed, with ripe lychee and lean wheatgrass. A great example of table wine done right. |
Read more: http://www.sfgate.com/cgi-bin/article.cgi?f=/c/a/2012/04/13/FD0L1O1JIR.DTL#ixzz1sDjzUbCt
---
VINUM CELLARS BUBBLES
SPARKLING CHENIN BLANC, CLARKSBURG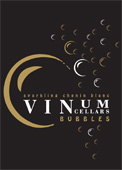 This is our first release of Sparkling wine, and it's getting a great reception!
The appearance of this sparkling Chenin Blanc illustrates a vibrant, small bubble bead and a fine mousse over a crystal clear, pale yellow color. Aromatically, the wine is tropical with pineapple, mango and guava with a hint of marzipan and a Key lime backdrop. The palate expresses ripe peach, passion fruit and lemon verbena and finishes dry with pure Chenin citrus fruit and lively acidity.
This is a perfect alternative to high priced Champagnes and something refreshing from the same old Prosecco and Cava the market has been flooded with. This is a fine American sparkling wine from a varietal know for making refreshing, high acid cuvees that are food friendly and versatile. Great with goat cheese tarts lined in sun dried tomato paste and fresh made crust. It also pairs well with a wild mushroom ragu served over soft polenta or English sea bass served with truffle-mashed potatoes and wilted baby spinach with sesame. Or, if you must, caviar will do it.
buy now
JOIN OUR WINE CLUB and receive FREE SHIPPING on your first installment!
---
TRY A 12 BOTTLE CASE OR A 6 PACK OF OUR MIXED SAMPLER!
A great way to get an introduction to our product line, and receive 10% discount!
---
2009 THE SCRAPPER
CABERNET FRANC
GOLD MEDAL, Cincinnati Wine Competition, March, 2013
2007 THE SCRAPPER
CABERNET FRANC
Wine Enthusiast Magazine, April, 2011
92 Points
"A 100%-Cabernet Franc from mountainous El Dorado County! This wine's crazy good with tons of varietal character — woodsy tannins, touch of green pepper, vials of violets — that's also packed with plenty of great plum, cassis and savory notes of leather and mocha, all in a memorable package. With plenty of grip and acid, enjoyed over a meal, it gets better by the minute and has the depth to age 5 - 10 years, too." - V.B.
2006 THE SCRAPPER
CABERNET FRANC
The Tasting Panel, June, 2011
90 Points
"Smooth and silky with plum, spice and hints of smoke and mocha; sipple, dense and balanced with good length" - Anthony Dias Blue
---
mailing list sign-up
---