WELCOME
---
AN ANY DAY TREAT

This is a perfect alternative to high priced Champagnes and something refreshing from the same old Prosecco and Cava the market has been flooded with. This is a fine American sparkling wine from a varietal know for making refreshing, high acid cuvees that are food friendly and versatile. Great with goat cheese tarts lined in sun dried tomato paste and fresh made crust. It also pairs well with a wild mushroom ragu served over soft polenta or English sea bass served with truffle-mashed potatoes and wilted baby spinach with sesame. Or, if you must, caviar will do it.

A REFRESHING CHOICE

This 100% Napa Valley Cabernet is a vibrant salmon pink color with beautiful floral/rose musk notes with lemon, citrus notes. The palate expresses fresh strawberry-rhubarb flavors with sweet tealeaf and candied orange peel. The finish is ripe with a burst of sour cherry and nasturtiums, snappy acidity and balanced.
This wine is ideal for Valentines Day, Mother's Day, Independence Day, TAILGATERS, beaches, hot tubs and anything summer.
This is a great choice for goal cheese tarts, pizzettas with sun dried tomatoes and steak salads. Since the wine is a Cabernet Sauvignon base, it does have some of the tannins which give it some grip albeit in a lighter fashion.

A CONCENTRATED TASTE

This Cabernet Sauvignon from the Napa Valley confirms our belief that only specific grape varietals should be grown within appellations that are ideally suited to the varietal. This Cabernet Sauvignon is from a dry farmed, low yielding, hillside vineyard riddled with granite deposits. Each year this vineyard produces small-berried clusters of fully mature grapes from which we make wines of maximum concentration while preserving varietal distinction.
---
VINUM CELLARS WINE CLUB OFFERS TWO INSTALLMENTS PER YEAR.

FREE SHIPPING ON FIRST ORDER! By joining our Wine Club you will:

Save 10-15% OFF regular retail price on all purchases in our on-line store.

Immediate priority on new releases and rare vintages.

Receive automatic direct shipment to your location twice a year.
---
VINUM CELLARS GIFT CARD is now available in 3 options of $25/$50/$100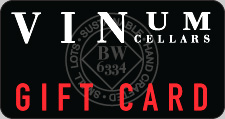 ---
An environmentally conscious company, Vinum Cellars works only with sustainable growers to create Eco-Friendly products. The packaging choices are made specifically to minimize their carbon footprint. Some of those features are: Domestically produced light weight, Eco-Series glass; labels and cartons using only non-toxic, water based inks and each of these suppliers recycles 100% of the waste created by manufacturing our packaging.
---