WELCOME
---
Introducing our latest Line Up: V SERIES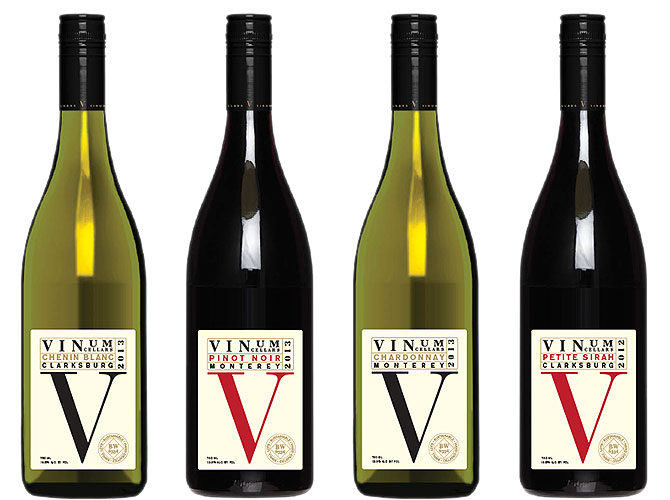 2013 CHENIN BLANC, CLARKSBURG

This is a vibrant, pale yellow wine which glistens in the sunlight and is
the quintessential summertime sipper...


2013 PINOT NOIR, MONTEREY

This elegant Pinot Noir is a vibrant garnet color and has burgundian aromas from sweet cherry to spice such as aromas of clove and sandal- wood...


2013 CHARDONNAY, MONTEREY

This complex coastal Chardonnay is medium straw colored and has a tropical profile, with integrated spice and creamy French oak notes...


2012 PETITE SIRAH, CLARKSBURG

This is our 14th year of producing Petite Sirah from Clarksburg and this is one of our best efforts to date. The color is inky purple with maximum teeth staining capacity and has ripe plummy aromas backed with leathery and slight earth notes...
---
VINUM CELLARS WINE CLUB OFFERS TWO INSTALLMENTS PER YEAR.

FREE SHIPPING ON FIRST ORDER! By joining our Wine Club you will:

Save 10-15% OFF regular retail price on all purchases
in our on-line store.

Immediate priority on new releases and rare vintages.

Receive automatic direct shipment to your location twice a year.
---
VINUM CELLARS GIFT CARD is now available in 3 options of $25/$50/$100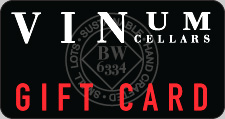 ---
An environmentally conscious company, Vinum Cellars works only with sustainable growers to create Eco-Friendly products. The packaging choices are made specifically to minimize their carbon footprint. Some of those features are: Domestically produced light weight, Eco-Series glass; labels and cartons using only non-toxic, water based inks and each of these suppliers recycles 100% of the waste created by manufacturing our packaging.
---