VINUM CELLARS PRESS
---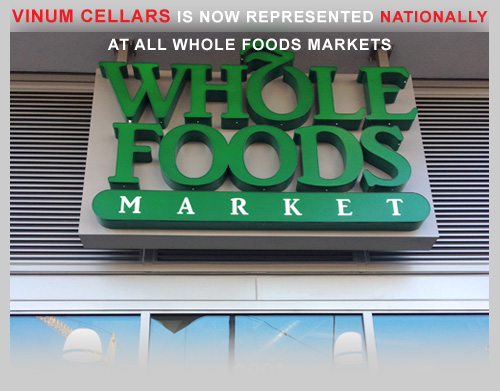 Our customers often ask us where they can find Vinum Cellars wines close to home. We are proud to announce that we have 2 wines: Vinum Cellars California Pinot Noir and Chardonnay now on the shelf in every Whole Foods Market across the country!
---

California Chenin Blanc: The Chronicle recommends
Jon Bonné
Sunday, April 15, 2012
| | |
| --- | --- |
| | 2010 Vinum Cellars Clarksburg Chenin Blanc-Viognier ($12, 13.5%): Winemakers Chris Condos and Richard Bruno have staked a claim on Chenin, which among other things made up their "Chard-No-Way" in years past. Harnessing what has become a quintessential mix - Chenin from the Clarksburg appellation in the Sacramento River Delta, blended with Viognier - they found a refreshing, crisp expression, full of Bosc pear and pumpkin seed, with ripe lychee and lean wheatgrass. A great example of table wine done right. |
Read more: http://www.sfgate.com/cgi-bin/article.cgi?f=/c/a/2012/04/13/FD0L1O1JIR.DTL#ixzz1sDjzUbCt
---
THE WASHINGTON POST
Changes brewing at the ballpark as wine options grow
"...AT&T Park in San Francisco has been widely praised for its extensive food and drink offerings and, not surprisingly, has a varied wine list, too. Wines available include Rosenblum zinfandel, Vinum Vineyards chardonnay and cabernet sauvignon and Borgo Magredo prosecco."
---
North Bay
BUSINESS JOURNAL
Sonoma, Marin and Napa Counties
By Jeff Quackenbush, Business Journal Staff Reporter
Following are profiles of the top day-to-day leaders from the Business Journal's lists of the largest independently owned wineries under 100,000 cases, published in March, and the largest wine companies, published in May.
Listed alphabetically by company name at:
http://www.northbaybusinessjournal.com/35668/spotlight-on-leaders-at-independent-wine-companies
Richard Bruno and Chris Condos
Vinum Cellars
135 Camino Dorado, #6, Napa 94558; 707-254-8313; vinumcellars.com
Winemakers and University of California, Davis, alums Richard Bruno, Don Sebastiani & Sons winemaking director from 2001 through 2009, and Chris Condos started Vinum Cellars as a side project in 1997 to make high-quality affordable wines. Some of the 26,000 cases shipped last year were traditional varietal wines retailing for $10 to $12 a bottle.
"At times it is scary, because we live in a David and Goliath wine market," Mr. Bruno said. "But it is in this same spirit we started and built a successful company." Vinum competes on price with large wine companies by focusing on quality and keeping costs low, he said.
---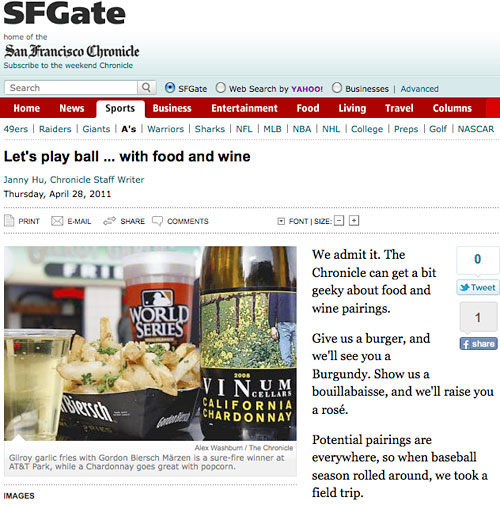 Let's play ball... with food and wine
VINUM CELLARS California Chardonnay at AT&T Park by the glass!
Janny Hu, Chronicle Staff Writer
San Francisco Chronicle April 28, 2011 04:00 AM Copyright San Francisco Chronicle.
All rights reserved. This material may not be published, broadcast, rewritten or redistributed.
The lowdown on ballpark beverages: Chronicle Wine Editor Jon Bonné critiques the offerings at the Coliseum and AT&T Park on Inside Scoop SF. Go to www.insidescoopsf.com.
"At AT&T Park, the wine theme is local as can be (with a few notable exceptions).
"I just wanted to be true to California," says Sandie Filipiak, AT&T Park's director of concessions. Thus the "California Wine Bar" stands around the park. Our initial scouting was grim – Meridian Pinot Noir as a high point? — until we stumbled upon a Brassfield Pinot Grigio and a Starmont Merryvale Sauvignon Blanc. Even more promising: The Vinum Chardonnay ($9) served at the California Cookout."
---