VINUM CELLARS PRESS
---
THE WASHINGTON POST
Changes brewing at the ballpark as wine options grow
"...AT&T Park in San Francisco has been widely praised for its extensive food and drink offerings and, not surprisingly, has a varied wine list, too. Wines available include Rosenblum zinfandel, Vinum Vineyards chardonnay and cabernet sauvignon and Borgo Magredo prosecco."
---
North Bay
BUSINESS JOURNAL
Sonoma, Marin and Napa Counties
By Jeff Quackenbush, Business Journal Staff Reporter
Following are profiles of the top day-to-day leaders from the Business Journal's lists of the largest independently owned wineries under 100,000 cases, published in March, and the largest wine companies, published in May.
Listed alphabetically by company name at:
http://www.northbaybusinessjournal.com/35668/spotlight-on-leaders-at-independent-wine-companies
Richard Bruno and Chris Condos
Vinum Cellars
135 Camino Dorado, #6, Napa 94558; 707-254-8313; vinumcellars.com
Winemakers and University of California, Davis, alums Richard Bruno, Don Sebastiani & Sons winemaking director from 2001 through 2009, and Chris Condos started Vinum Cellars as a side project in 1997 to make high-quality affordable wines. Some of the 26,000 cases shipped last year were traditional varietal wines retailing for $10 to $12 a bottle.
"At times it is scary, because we live in a David and Goliath wine market," Mr. Bruno said. "But it is in this same spirit we started and built a successful company." Vinum competes on price with large wine companies by focusing on quality and keeping costs low, he said.
---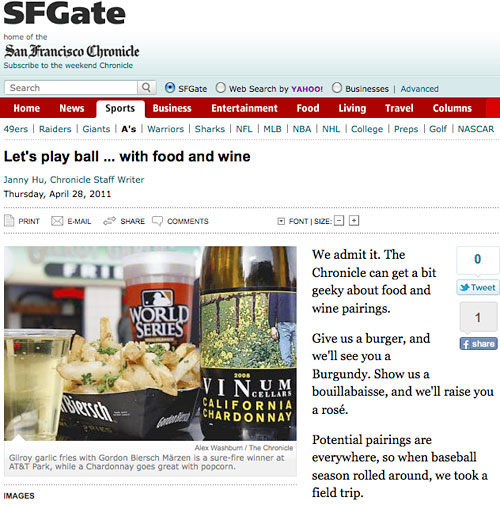 Let's play ball... with food and wine
VINUM CELLARS California Chardonnay at AT&T Park by the glass!
Janny Hu, Chronicle Staff Writer
San Francisco Chronicle April 28, 2011 04:00 AM Copyright San Francisco Chronicle.
All rights reserved. This material may not be published, broadcast, rewritten or redistributed.
The lowdown on ballpark beverages: Chronicle Wine Editor Jon Bonné critiques the offerings at the Coliseum and AT&T Park on Inside Scoop SF. Go to www.insidescoopsf.com.
"At AT&T Park, the wine theme is local as can be (with a few notable exceptions).
"I just wanted to be true to California," says Sandie Filipiak, AT&T Park's director of concessions. Thus the "California Wine Bar" stands around the park. Our initial scouting was grim – Meridian Pinot Noir as a high point? — until we stumbled upon a Brassfield Pinot Grigio and a Starmont Merryvale Sauvignon Blanc. Even more promising: The Vinum Chardonnay ($9) served at the California Cookout."
JOIN OUR WINE CLUB and receive FREE SHIPPING on your first installment!
---
TRY A 12 BOTTLE CASE OR A 6 PACK OF OUR MIXED SAMPLER!
A great way to get an introduction to our product line, and receive 10% discount!
---
2009 THE SCRAPPER
CABERNET FRANC
GOLD MEDAL, Cincinnati Wine Competition, March, 2013
2007 THE SCRAPPER
CABERNET FRANC
Wine Enthusiast Magazine, April, 2011
92 Points
"A 100%-Cabernet Franc from mountainous El Dorado County! This wine's crazy good with tons of varietal character — woodsy tannins, touch of green pepper, vials of violets — that's also packed with plenty of great plum, cassis and savory notes of leather and mocha, all in a memorable package. With plenty of grip and acid, enjoyed over a meal, it gets better by the minute and has the depth to age 5 - 10 years, too." - V.B.
2006 THE SCRAPPER
CABERNET FRANC
The Tasting Panel, June, 2011
90 Points
"Smooth and silky with plum, spice and hints of smoke and mocha; sipple, dense and balanced with good length" - Anthony Dias Blue
---
mailing list sign-up
---