Hostess Gift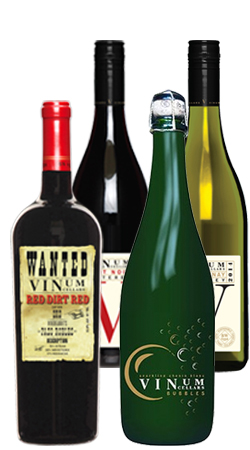 This gift is just what any Hostess with the Mostess needs. A gift that comes with reds and whites that can cater to everyone's palates. Crisp and refreshing, oaky and smooth, light and rich, to medium bodied with a vanilla finish all in one gift for that holiday get together. Packed with one bottle each of our Bubbles, 2013 Red Dirt Red, 2014 Chardonnay, and 2014 Pinot Noir.
Bubbles, Clarksburg
This is a perfect alternative to high priced Champagnes and something refreshing from the same old Prosecco and Cava the market has been flooded with. This is a fine American sparkling wine from a varietal know for making refreshing, high acid cuvees that are food friendly and versatile. Great with goat cheese tarts lined in sun dried tomato paste and fresh made crust. It also pairs well with a wild mushroom ragu served over soft polenta or English sea bass served with truffle-mashed potatoes and wilted baby spinach with sesame. Or, if you must, caviar will do it.
2013 Red Dirt Red, Paso Robles
Rhone Style Red Blend
51% Syrah
32% Mourvedre
17% Grenache
The spice also picks up on the finish and displays cinnamon, clove and white pepper followed by complex vanilla flavors from extensive French oak barrel aging.

The grapes were grown in the Central Coast's now famous Paso Robles appellation which is mountainous and warm, yet close to the coast which moderates the temperatures. Paso Robles is well known for exceptional red wines, particularly Syrah and the other two Rhone varietals found in this blend: Grenache and Mourvedre. This is due to the low yields and amazing concentration which makes the resulting wines true to varietal character and distinct: Syrah provides the big fruit and concentrated base of the blend, the Mourvedre - the earth and leathery qualities, and the Grenache is all spice.
This wine pairs well with roasted chicken or Peking duck, short ribs with parsnip mashed potatoes or filet mignon encrusted with wild mushrooms and served with Israeli Couscous and organic pea shoots dusted with white pepper.
The palate is super concentrated and ripe with wild raspberry and up front bramble notes, the palate moves on to Montmorency and Rainer cherry flavors and then understated licorice and lightly spiced cherry pie flavors. It will drink well in its youth, but will cellar well through 2024.
This wine expresses ideal acidity and will pair well with many dishes. Try it with classic Cassoulet, slow roasted pork shoulder or braised short ribs. These main courses and others should be paired with rustic winter vegetables such as roasted parsnips, carrots and English peas; pan seared fingerling potatoes dusted with truffles (when available) and sea salt.
Cases produced: 1,200
2014 Chardonnay, Monterey
This Chardonnay has a medium straw color with aromas of lemon custard, rich vanilla, cream and toasted oak notes. The palate is generous with it's layered tropical notes of mango, papaya and pineapple which then transitions into silky rich custard and carmel toffee notes and does so in an integrated fashion. This wine is rich and layered, but relies on the natural acidity from the acidity of the Santa Lucia Highland fruit where daily temperatures are in the 60s and 70s.
This wine pairs well with lobster or crab served with drawn butter and lemon. Try it with grilled wild King Salmon, wilted greens and roasted fingerling potatoes.
2014 Pinot Noir, Monterey
This Pinot Noir has vibrant, medium garnet color with medium viscosity evidence by slow falling legs. The aromas are black and rainier cherries with slight earth and black pepper notes. The palate is full with ripe cranberry, sweet and sour cherry flavors and is wrapped in exotic spice flavors such as star anise and cinnamon and fold into a blanket of integrated French oak, vanilla finish.
The grapes for this wine are sourced in Monterey near King City and on the West side foothills of the lower Santa Lucia Highlands Range (a bit South of Santa Lucia Highlands proper). The blend is comprised of Clones 115, 2A and Pommard 4. Each clone is harvested and fermented separately to achieve the best expression of each and then used in the final blend. We perform a 72 hour cold soak to the grapes prior to inoculating. The wine ferments over 7 - 10 days and we cold soak on the back-end too, from 24-72 hours depending on the vintage (2013 was 36 hours for those keepign score at home). After determining the wine is dry, we drain the tank and press gently and then rack the wine directly into the oak for completion of ML (Malo-Lactic fermentation) and aging for at least 9 months. We tend to not rack, because we like our Pinot Noir to ride the wave between oxidation and reduction.
This wine pairs well with duck confit over an arugula salad with toasted pine nuts and shaved fennel dusted with black pepper. It's nice with a baked goat cheese tart in a scratch made crust and sundried tomato paste.
---