Red Wine Sampler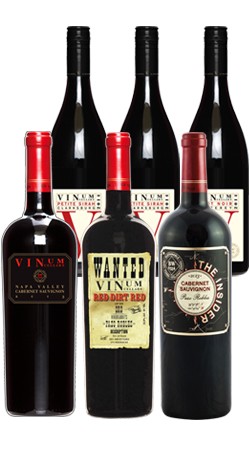 Red wine lovers rejoice! This gift comes packed with exotic spice flavors, vanilla wrapped berries, dark and juicy overripe flavors with dense black cherry fruit and big silky tannins. These mouth watering wines all in one neat gift...1 bottle of 2013 Napa Cab, 1 bottle 2013 Red Dirt Red, 1 bottle 2013 The Insider, 1 bottle 2014 Pinot Noir, and 2 bottles 2014 Petite Sirah.
2013 Napa Cabernet Sauvignon
Robert Parker's Wine Advocate, October, 2016
92 Points
"The 2013 Cabernet Sauvignon Hoffman Vineyard is even a greater value and a big-time sleeper of the vintage. This wine has an even more impenetrable black/purple color, with notes of allspice, black cherry, blackcurrant, blueberry and white flowers. The wine hits the palate with a voluptuous texture, a full-bodied mouthfeel, silky tannins and a long, long finish. This is also 100% Cabernet Sauvignon with the same barrel aging regime. At $42.00 a bottle, it is a steal. Drink now-2032." - Robert Parker
2013 Red Dirt Red, Paso Robles
Rhone Style Red Blend
51% Syrah
32% Mourvedre
17% Grenache
The spice also picks up on the finish and displays cinnamon, clove and white pepper followed by complex vanilla flavors from extensive French oak barrel aging.

The grapes were grown in the Central Coast's now famous Paso Robles appellation which is mountainous and warm, yet close to the coast which moderates the temperatures. Paso Robles is well known for exceptional red wines, particularly Syrah and the other two Rhone varietals found in this blend: Grenache and Mourvedre. This is due to the low yields and amazing concentration which makes the resulting wines true to varietal character and distinct: Syrah provides the big fruit and concentrated base of the blend, the Mourvedre - the earth and leathery qualities, and the Grenache is all spice.
This wine pairs well with roasted chicken or Peking duck, short ribs with parsnip mashed potatoes or filet mignon encrusted with wild mushrooms and served with Israeli Couscous and organic pea shoots dusted with white pepper.
The palate is super concentrated and ripe with wild raspberry and up front bramble notes, the palate moves on to Montmorency and Rainer cherry flavors and then understated licorice and lightly spiced cherry pie flavors. It will drink well in its youth, but will cellar well through 2024.
This wine expresses ideal acidity and will pair well with many dishes. Try it with classic Cassoulet, slow roasted pork shoulder or braised short ribs. These main courses and others should be paired with rustic winter vegetables such as roasted parsnips, carrots and English peas; pan seared fingerling potatoes dusted with truffles (when available) and sea salt.
Cases produced: 1,200
2013 The Insider
On the palate, this wine is rich with deep plum and cassis notes with medium and integrated tannins from the French oak aging and is balanced well between the fruit and alcohol level. The wine finishes with intense berry fruit and is ripe with fresh bing cherry and boysenberry flavors which display textbook Cabernet tannins which make the wine very appealing now, yet appropriate for long term cellaring and will reward patience.

THE INSIDER is a wine we created as a tribute to our core winemaking belief, which is to seek the far corners of California to find the best growers farming the correct varietal in the right appellations and farming with heart, passion and conviction. The grapes for this wine were sourced from selected vineyards within Paso Robles from some choice properties grown by veteran grape growers. The grapes were all hand picked at night under the lights and delivered to the winery when cool. The grapes were then destemmed and put directly into the the primary fermenters for a 72 hour cold soak under CO2 gas with pump overs once per day during this time. After the third day, the tanks were yeasted and allowed to warm up and each tank was pumped over three times per day. By day 6 the wine had hit the peak of fermentation and the temperature reached 86 degrees F and finished the primary fermentation on day 11 after which pump overs were again reduced down to once per day and allowed to be on the skins for 72 hours before pressing. Once the wine was pressed, the wine had undergone malo-lactic fermentation naturally in two year old French oak barrels where the wine remained for 22 months, with rackings about every 6 months.
The Insider is best with grilled or roasted meat such as a thick cut Porterhouse or Rib Eye, served with garlic mashed potatoes and English peas sautéed with chipollini onions. It will pair nicely with strongly seasoned fish and soy infused dishes such as grilled sea bass in a mushroom soy glaze. For a vegetarian option, look to eggplant Moussaka.
Cases produced: 1,200
2014 Pinot Noir, Monterey
This Pinot Noir has vibrant, medium garnet color with medium viscosity evidence by slow falling legs. The aromas are black and rainier cherries with slight earth and black pepper notes. The palate is full with ripe cranberry, sweet and sour cherry flavors and is wrapped in exotic spice flavors such as star anise and cinnamon and fold into a blanket of integrated French oak, vanilla finish.
The grapes for this wine are sourced in Monterey near King City and on the West side foothills of the lower Santa Lucia Highlands Range (a bit South of Santa Lucia Highlands proper). The blend is comprised of Clones 115, 2A and Pommard 4. Each clone is harvested and fermented separately to achieve the best expression of each and then used in the final blend. We perform a 72 hour cold soak to the grapes prior to inoculating. The wine ferments over 7 - 10 days and we cold soak on the back-end too, from 24-72 hours depending on the vintage (2013 was 36 hours for those keepign score at home). After determining the wine is dry, we drain the tank and press gently and then rack the wine directly into the oak for completion of ML (Malo-Lactic fermentation) and aging for at least 9 months. We tend to not rack, because we like our Pinot Noir to ride the wave between oxidation and reduction.
This wine pairs well with duck confit over an arugula salad with toasted pine nuts and shaved fennel dusted with black pepper. It's nice with a baked goat cheese tart in a scratch made crust and sundried tomato paste.
2014 Petite Sirah, Clarksburg
The wine is uber concentrated and ripe with blueberry and boysenberry fruit which are elegantly wrapped in a silky vanilla wrapping. The entry of this dense Petite is both tannic and bold while maintaining a juicy, overripe profile displaying ample acidity to balance the tannins and fruit concentration making it multidimensional and food friendly. The finish is so supple and smooth that you will miss it when it is gone.
The grapes for this wine come from Wilson Farms, a 3rd generation farm established in 1922. While their first grapes were planted to other varietals it became understood rather quickly that the best two varietals to grow there are both Chenin Blanc and Petite Sirah. The planting we first started making wine from was 1978, but we have diversified into other blocks which allows us to make a more complex wine and achieve maximum color extraction. Part of what makes Clarksburg a special appellation is the cooling trend that comes in from the San Francisco Bay everyday at about 3:30 pm which sweeps the heat out of the valley floor and allows the grapes to maintain their natural acidity. I like to say this is a reverse cooling trend in that moderation (of heat) comes in the afternoon rather than the early mornings as it does on the coast.
3,000 case produced.
---