White Wine Sampler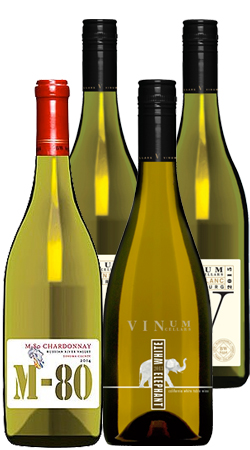 Here we have crisp apple whites to smooth oaky Chardonnays. Get a taste of California whites from Monterey, Sacramento, Paso Robles, and some of Sonoma Valley's specialty fruit bottled and packaged in one holiday gift just for you or that one special person you have in mind. Fully equipped with our 2014 Chardonnay, Monterey, 2014 M-80 Chardonnay, 2014 White Elephant, and our 2015 Chenin Blanc.
2015 Chenin Blanc, Clarksburg
This wine evolves into a crisp melange of refreshing fruit from honeydew to citron lemon, ripe kiwi and tart pippin apples. The wine finishes juicy while remaining appropriately acidic and dry with sweet green apple and mango nectar flavors.
This is our 18th year of producing Chenin Blanc from Wilson Farms in Clarksburg California, near Sacramento in the Delta. What is special about this location (especially for Chenin Blanc) is the micro climate. This area is about 90 miles East of San Francisco which is an inland valley floor location, prone to heat; however, because of its proximity to the SF Bay, the area is cooled down in the afternoon due to the marine influence. The cool breezes remove heat, yet allow for optimal daytime sunlight and ripening to occur. This cooling effect allows the grapes to maintain larger than normal (for an inland location) natural acidities which inherently makes better wine.
The grapes for this wine are harvested in the middle of the night so we receive them nice and cold at the winery bright and early (usually 5 am). We hand sort the grapes and go direct to the press, expressing the juice and cold settling for about 3 days. After the juice is settled, we rack the unfermented juice clean and into stainless steel tanks and ferment cold and slow to express as much aromatics as possible. The wine is not put through malo-lactic so as to preserve the natural acidity and maintain this as an important part of the flavor profile.
This wine pairs fabulously with grilled fish tacos and salsa fresca, avocado, fresh lime and cilantro. Try it with summer salads like blood orange, shaved fennel and arugula in a champagne vinaigrette. Or a chioggia beet salad with toasted walnuts and gorgonzola or grilled yellowfin tuna with fresh guacamole, roasted fingerling potatoes and Maui onions.
2014 M-80 Chardonnay, Russian River Valley
The M-80 firework is extremely loud, explosive and dangerous. The same is true with our M-80 Chardonnay. We select choice Chardonnay grapes from the cool climate of Sonoma County, pick at optimal ripeness and ferment exclusively in French oak and put the wine through 100% Malo-Lactic fermentation. The wine is generous in its vanilla and buttery aromas and flavors which some may describe as extreme, explosive and dangerous.
The color of this Russian River Chardonnay is pale straw and has noticeable viscosity. The aromas are varietal with peach and apricot nectar with a touch of clove and cinnamon. On the palate this wine is very juicy and concentrated with baked spiced apple which then becomes creamy and buttery while referring back to a tropical core of pineapple, guava and passionfruit. The wine finishes very balanced with the vanilla, oak and buttery components present in the entry and mid palate while finishing with ripe tropical fruit flavors some expressing sweet textures.
This grapes for this wine were selected from the Wood ranch off River road in the Russian River Valley. The vines are clone 4, cordon trained and are about 25 years old. We pick the grapes ripe at 23.5-24 Brix and whole cluster press the grapes, cold settle and rack off the gross lees after 2 days. We then fill equal parts of 2, 3 and 4 year old burgundy barrels and barrel ferment in the cold room over 2 weeks. After this primary fermentation has finished it was inoculated for malo-lactic fermentation to 100% conversion and aged Sur Lies for 9 months, which is where the buttery and some of its creaminess comes from.
2014 Chardonnay, Monterey
This Chardonnay has a medium straw color with aromas of lemon custard, rich vanilla, cream and toasted oak notes. The palate is generous with it's layered tropical notes of mango, papaya and pineapple which then transitions into silky rich custard and carmel toffee notes and does so in an integrated fashion. This wine is rich and layered, but relies on the natural acidity from the acidity of the Santa Lucia Highland fruit where daily temperatures are in the 60s and 70s.
This wine pairs well with lobster or crab served with drawn butter and lemon. Try it with grilled wild King Salmon, wilted greens and roasted fingerling potatoes.
2014 White Elephant, California
Wine Spectator
VINUM White Elephant, California 2014
Score: 90
Ripe peach, apricot and pear flavors are rich and unctuous, with toasted spice, vanilla bean and honeysuckle accents. Crisp acidity leads to a fresh finish. Chenin Blanc, Vigonier and Roussanne. Drink now. 500 cases made.—M.W.
Wine Enthusiast
Editors' Choice
VINUM White Elephant, California 2014
Score: 90
n. 1. A rare, expensive possession that is a financial burden to maintain. 2. An uncommon whitish or light-gray form of the Asia elephant, often regarded with special venerations. 3. A unique California white wine made from a blend of 58% Chenin Blanc, 32% Viognier and 10% Roussanne, which are barrel fermented in French Oak and aged Sur Lies for 9 months. Its cool climate pedigree stretches from Clarksburg, through San Benito to Santa Barbara County.
Medium straw color which is evidence of its careful French oak barrel fermentation. The aromas display tropical top notes from the Clarksburg Chenin Blanc such as mango and lychee, but then is backed by apricot and clove courtesy of the Paso Robles Viognier. The palate has a slight toasted oak note and then becomes slightly creamy while opening up with its ample acidity (again from the Clarksburg Chenin Blanc), but then shows the pear grit and pure minerality from the Paso Robles Roussanne. This complex blend was crafted to deliver a world class, food friendly wine and a new world tribute to the Loire Valley. California doesn't share the same terroir, but the non-traditional varietals we combine with the Chenin Blanc reminds us of the best of Vouvray.
The wine has a long and elegant finish and is ideal with fresh oysters on the half shell and pairs well with fresh cracked crab or crab cakes, grilled fish, sea scallops or chicken korma, a mildly spicy almond chicken curry (Indian), and goes nicely with grilled wild Salmon with sweet potatoes and baked organic asparagus.
---