VINUM CELLARS PRESS
---
CALIFORNIA BEST BUYS TO GET YOUR WEEKEND STARTED
WINE ENTHUSIAST's the only wine-centric shopping list you need.
http://www.winemag.com/Web-2014/7-California-Best-Buys-to-Get-Your-Weekend-Started
Vinum 2013 Chenin Blanc (Clarksburg)
88 POINTS
Clean, crisp, dry and tangy—think fresh-cut apples with a whiff of honey—this wine is appealing because of its freshness and acidity.—J.G
---
LATEST REVIEWS
WINE ENTHUSIAST
http://www.winemag.com/Web-2014
2012 The Insider Cabernet Sauvignon (Paso Robles)
88 POINTS
Producers Chris Condos and Richard Bruno put together a fairly priced wine, with aromas of herbed pie crust surrounding warm blackberry fruit. There's more smoked meat on the palate than ripe fruit, and it is quite tannic, so can handle heavy fare. — M.K. (2/1/2015)
Vinum 2013 Chardonnay (Monterey)
87 POINTS
ONLINE EXCLUSIVE
Light in color, this good-deal wine presents lime sorbet and chalk on the nose. That green citrus persists on the palate alongside salt, sea shell and barrel smoke. — M.K. (2/1/2015)
---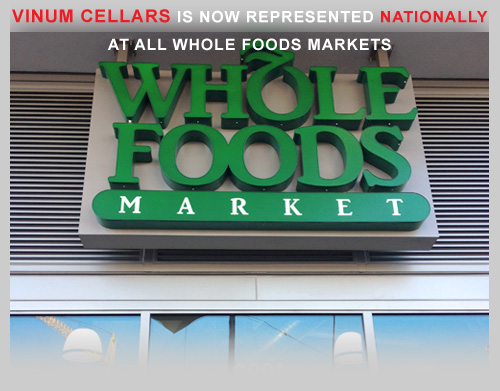 Our customers often ask us where they can find Vinum Cellars wines close to home. We are proud to announce that we have 2 wines: Vinum Cellars California Pinot Noir and Chardonnay now on the shelf in every Whole Foods Market across the country!