Kebabs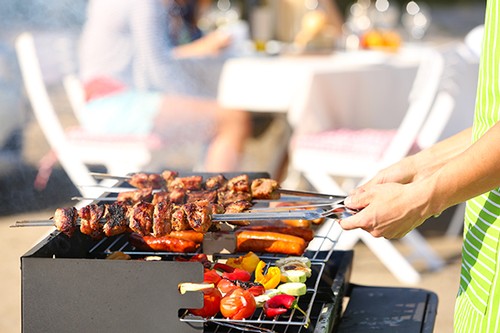 Recipe Date:
May 31, 2018
Measurements:
Imperial (US)
Ingredients
1 lb Boneless, skinless chicken breasts
2 tbsps Canola oil
1 Large lime, zest and juice, plus additional for serving
1 tbsp Chili powder
2 tsps Ground cumin
2 Cloves garlic, chopped
1 Jalapeño, chopped
1/2 tsp Kosher salt
1 Large red bell pepper
1 Large green bell pepper
1 Large red onion
Fresh cilantro, for serving
Salsa, sour cream (or plain yogurt), and guacamole, optional for serving
Directions
Cut the chicken into bite-sized pieces. Place in a zip-top bag.
In a small bowl, whisk together the canola oil, lime juice and zest, chili powder, cumin, garlic, jalapeño, and salt. Add the chicken to the bowl and toss to coat. Cover and refrigerate for 30 minutes or overnight. If using wooden skewers, soak the skewers in water for at least 20 minutes prior to use.
When ready to cook, heat your grill to medium-high. Cut the bell peppers and onion into 3/4-inch chunks, then thread onto skewers with the marinated chicken pieces (or separately if you prefer), alternating the chicken with the vegetables. Lightly oil the grill, then place the kabobs on the grill, cover, and let cook until the chicken is fully cooked and no longer pink, about 6 to 8 minutes, turning the chicken once or twice throughout so that it cooks evenly.
Remove the chicken kebabs to a serving plate and sprinkle with cilantro and a few squeezes of fresh lime juice. Serve warm, garnished with toppings of your choice.