Root Beer Pulled Pork with Fresh Coleslaw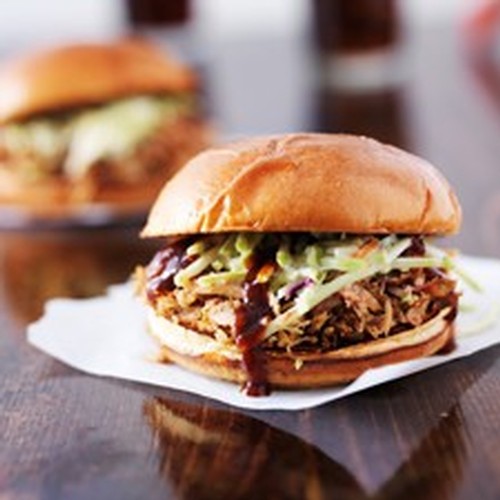 Recipe Date:
August 24, 2017
Measurements:
Imperial (US)
Ingredients
4 lbs Pork Shoulder
12 ozs Root Beer (We use IBC)
1 cup Favorite BBQ Sauce (We use Sweet Baby Ray's)
1 packet Lipton's Onion Soup Mix
1/2 cup Brown Sugar
3/4 cup Apple Cider Vinegar
1 tbsp Yellow Mustard
1 tbsp Hot Pepper Sauce (optional)
1 tbsp Cheyenne Pepper (optional)
12 Sweet Hawaiian Rolls
32 oz Finely Shredded Cabbage
1 Finely Shredded Carrot
3/4 cup Mayonnaise
2 1/2 tbsps Vinegar
3 tbsps Milk
1/2 cup White Sugar (optional)
Salt & Pepper to taste
Directions
Place all pulled pork ingredients in a crock pot and cook on low for 8 hours. Pull pork from crock pot and shred with a fork and knife. Remove 2/3 of the juice from the crock pot. Transfer juice to a medium size sauce pot and bring to a simmer. Transfer shredded port back to crock pot and turn on low.

While you are waiting for the juice to simmer, in a separate bowl, add 2 teaspoons of corn starch to ¼ cup of water. Mix thoroughly. Once the juice is simmering, add corn starch mixture and keep stirring till you reach desired thickness. Remove sauce from heat once desired thickness has been reached.

Mix sauce and pulled pork together to coat. Place all coleslaw ingredients in a large mixing bowl. Stir thoroughly. If you like more vinegar based coleslaw, add vinegar to taste preferences. If you like sweeter coleslaw, add white sugar to taste preferences.
Once the sauce and coleslaw have been competed, serve spoon pork and coleslaw on to buns. For added flavor, lightly toast buns, top with American cheese.