Cellar Collection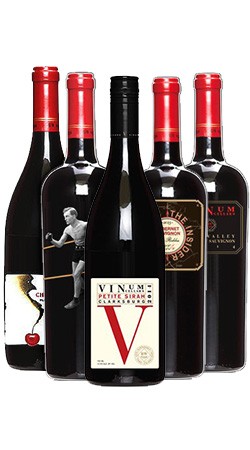 Stock your cellar with a sampling of our favorite red wines.
Includes:
2 bottles of 2014 Cherry Bomb, Pinot Noir, Russian River Valley, Sonoma County
4 bottles of 2014 Napa Cab
2 bottles of 2015 The Insider, Paso Robles
2 bottles of 2015 Petite Sirah, Clarksburg
2 bottles of 013 The Scrapper
2014 Cherry Bomb, Pinot Noir, Russian River Valley, Sonoma County
This is a wine we have wanted to make for about 15 years. The concept is simple, when you choose the right clones of Pinot Noir grown in the best spots and picked at optimal ripeness the flavors that jump out of the glass are easily summed up?by the expression "Cherry Bomb".
2014 Napa Cab

Vinum Cellars was established in 1997 based on producing value oriented, varietal/appellation specific wines. Cabernet Sauvignon from the Napa Valley confirms our belief that only specific grape varietals should be grown within appellations that are ideally suited to the varietal.
2015 The Insider, Paso Robles
The name "The Insider" comes from the confidentiality agreement we had to sign in order to purchase the grapes from the vines of a well known winery producing world class wines. With our insider connections and knowledge we are able to offer you a wine of exceptional quality and pedigree at a price that will amaze.


2015 Petite Sirah, Clarksburg
The wine is uber concentrated and ripe with blueberry and boysenberry fruit which are elegantly wrapped in a silky vanilla wrapping. The entry of this dense Petite is both tannic and bold while maintaining a juicy, overripe profile displaying ample acidity to balance the tannins and fruit concentration making it multidimensional and food friendly. The finish is so supple and smooth that you will miss it when it is gone.

2013 The Scrapper
This heavily extracted Cabernet Franc is from mountain fruit and has a deep dark plum color showcasing the intense color capacity from grapes of low yielding vines. Intense blueberry, cassis and huckleberry aromas jump out of the glass and are framed by subtle cinnamon notes.
---