Hostess Gift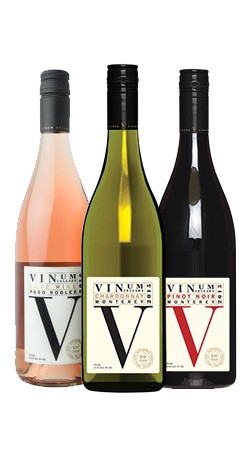 The perfect hostess gift, our trio of Vinum wines includes three delicious food-friendly wines sure to please any crowd.
Includes:
1 bottle of 2015 Chardonnay, Monterey
1 bottle of 2015 Pinot Noir, Monterey
1 bottle of 2016 ROSÉ WINE, Paso Robles
2015 Chardonnay, Monterey
Smooth, ripe and juicy with smooth vanilla oak; mellow and balanced with ripe pear fruit and a mellow finish; long and creamy.
2015 Vinum Pinot Noir, Monterey County
Smooth and lush with ripe cherry and earthy notes; savory and dense, long and intense. TWISTY.
2016 ROSÉ WINE, Paso Robles

This light Salmon colored Rosé is made from Grenache, Syrah and Mourvedre and grown in Paso Robles. The aromas are ripe with strawberry, rhubarb and floral notes and backed with ample acidity showcasing a lemon citrus profile. On the palate this wine is very refreshing and lively with the acidity bouncing off the palate and integrating nicely with the ripe berry flavors from the Syrah and rounded with subtle spice notes from the Grenache. The palate rounds out the composition with subtle earth notes from the Mourvedre and back then to the ample citrus acidity.
---