Summer Six Pack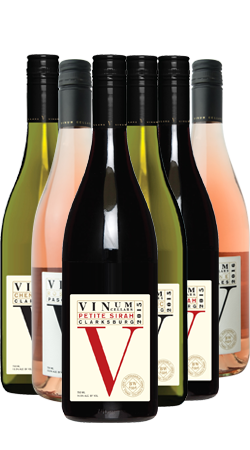 This is not just some Spring Fling! Your favorite Vinum wines will always be here for you, but now you can enjoy them in a sweet six pack. This season's offering is crisp and refreshing with our Chenin Blanc and Rosé for those warm sunny days. Enjoy the Petite Sirah that has a finish so supple and smooth that you will miss it when it is gone.
2 bottles each of:
2015 Chenin Blanc, Clarksburg
2016 Rosé Wine, Paso Robles
2015 Petite Sirah, Clarksburg
2015 Chenin Blanc, Clarksburg
91 POINTS
Wine Enthusiast, August 2017
Editor's Choice!
"This is a vibrant, pale yellow wine which glistens in the sunlight and is the quintessential summertime sipper. The first thought is refreshing after nosing this wine and discovering tropical fruits such as kiwi and casaba melon notes and a touch of linalool and blood orange notes. The palate is completely balanced in its acidity and mid palate allowing a variation of flavors to be revealed: citron lemon, key lime, Pipen apple, fig and Meyer lemon zest. It finishes with honeysuckle, mango, passion fruit and kumquat."
2016 Rosé Wine, Paso Robles
4/5 stars
Restaurant Wine, July 2017
This Rosé was made as part of the Red Dirt Red wine family, by taking some of the juice at the distemmer before the grapes were pumped into the red fermenter. However, a good portion of the wine was made by pressing the grapes directly in the press.
"Screw cap. Excellent quality rose. It is fragrant, full bodied, balanced, and long on the finish, tasting of cherry, plum, watermelon, herbs, and white pepper. Grenache, Syrah, Mourvedre. [2017-2018]."
2015 Petite Sirah, Clarksburg
2014
87 points
Wine Enthusiast, March 2016
"This big, imposing wine seems like it is so packed with flavor and tannins that it hasn't sorted itself out yet and needs time to come into balance. It has aromas like clove, tar and beef broth, and thick smoky, beefy flavors. The color is dark. Best drink this after 2018."
---